The Aeroseal Process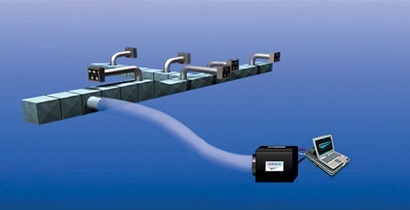 Aeroseal Duct Sealing is a patented breakthrough technology that tackles leaks from the inside out. Aeroseal software allows the technician to accurately measure the duct leakage in residential homes and commercial buildings. The Aeroseal process puts escaping air under pressure and causes polymer particles to stick first to the edges of a leak, then to each other until the leak is closed.
The technology was developed within the Indoor Environment Program at Lawrence Berkeley National Laboratory, whose IAQ scientists tested it. The research was funded by US Environmental protection agency, US dept. of Energy, Electric Power Research Institute and California Institute of Energy and Environment.
The University of California was granted initial patents in 1996 and 1999, and Aeroseal holds an exclusive license to the technology.
There are all sorts of case studies from across the country … but frankly, do you care about Phoenix Arizona? How about several from climates like ours? Click on the City name below and see what the Aeroseal Process has done in climates similar to ours!
Cincinnati     ……     Milton Ontario    ……     Chicago    ……    Boston!
 So, what does an amazing process like this cost?