We Seal Duct Leaks and Save You Money! $$$
 The slideshow above shows a typical supply system, and then its' seams (where leaks can occur) essentially blowing dust and allergens wherever there is a leak, a typical return system and then its' seams – where the allergens and dust can be pulled into the system – and then the process by which the Aeroseal application process seals the ducts from the inside. What does this mean to you? Consider the images below …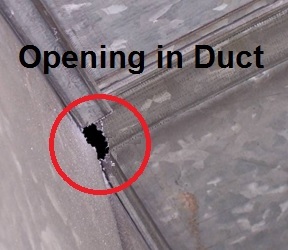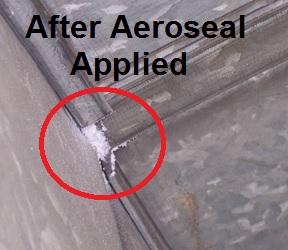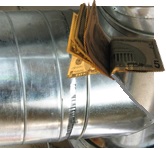 If the Opening was on the supply side of your system, your heating or A/C system would be losing efficiency. It would have to work harder to heat or cool your home. This means the cost to operate your system is higher than a properly sealed system. If the opening is on the return side of the system, that means that dust and allergens will be sucked into the duct-work and then blow out through the supply side. In just about every case we encounter, there are leaks on both sides of the system … so your system is wasting money, getting your house dusty and introducing allergens into your living space. Contrary to popular belief, your duct system should not look like this!
They should and can look like this instead. A properly sealed duct system will save you money in the following ways … lower utility and energy costs and less wear and tear on your equipment. What can you expect to save? It depends on how leaky your duct system is. The typical range is between $250 and $1000 per year! Recently Aeroseal measured a brand new system install. The leakage encountered was equal to a 6″ X 11″ hole in the system. Imagine cutting a hole that size in your duct system? The amount of loss would be incredible! The Aeroseal system was able to seal 98% of that. Sound to good to be true? Click Here …
It's not all roses … some sealing jobs are more complicated due to the initial workmanship and design of the duct system. Aeroseal of Southern New England has the skilled and licensed sheet metal mechanics to make your duct system work the way it should. We are essentially a duct restoration company that will not only correct your systems defects, but then provide the benefits of a properly sealed system in addition.
Are you frustrated by consistent dust build-up? Ducts in the walls, ducts in the attic, ducts in any "un-maintained" areas of your home where dust and allergens may accumulate can be sucked into your system and then distributed through the supply side into your home. The result? Even families who clean and dust regularly will be frustrated by how quickly dust will accumulate. It's not your fault! And here's a side benefit … duct leakage is probably the most significant single contributor to your high energy costs. Have your ducts tested for leakage and see. This is a truly state of the art process! But what does it cost?